Tours in New Zealand South Island - Ultimate Spring
Discover New Zealand's South Island through a lens

New Zealand South Island - Ultimate Spring
27 Nov - 14 Dec 2022
18 days & nights departs and returns Christchurch
Maximum 8 guests
AUD 14500
Come and join Beyond the Lens Tours on a small group luxury landscape photography tour of the spectacular South Island of New Zealand.
New Zealand's South Island is a land of contrasts and spectacular scenic beauty. Larger than the North Island it is stunningly beautiful with a gorgeous, rugged coastline, snow-capped peaks of the Southern Alps, glaciers, fjords, azure blue lakes, lush green valleys, an unforgettable journey into the heart of Fiordland National Park home to both the famous Milford & Doubtful Sound and for the adventurous, Queenstown, with its reputation for outdoor adventure or relaxation. You will be spoilt for choice as the photographic opportunities throughout the South Island of New Zealand will be on a grand scale.
Book Now

Tour Overview: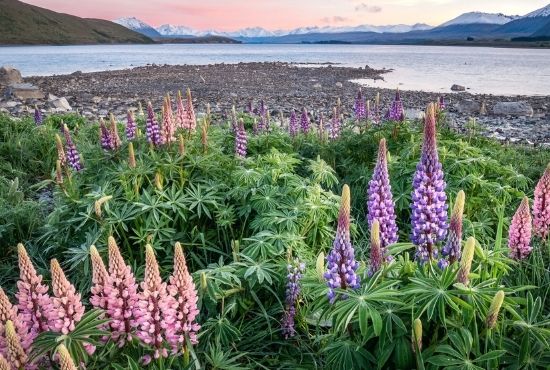 Our ultimate 18-day tour of New Zealand's South Island in Spring is for the landscape photographer who wants to discover in depth an unforgettable land of incredible landscapes, spectacular and diverse scenery, the rugged west coast, snow-capped mountains, glaciers, breathtaking fjords, lush rain forests and one of the world's best dark sky reserves for astrophotography. We start and finish in Christchurch after an exciting journey full of experiences, stunning photographic locations, captivating views from the air, glacier landings, 4WD safaris, sunrises, and sunsets to an overnight cruise through the famous Doubtful Sound. Included are our specialised photography and an astrophotography session with our local NZ professional photographers – Glen Howey (Wanaka/Queenstown), Joseph Pooley & Rachel Gillespie (Mt Cook/Lake Tekapo) that will ensure plenty of fabulous photographs to take home for memories from one incredible photographic adventure with like-minded travellers.
We like to travel at a relaxed pace but with many fantastic sights to photograph we keep the schedule moving along as each day provides many opportunities. It may involve the golden hours of sunrise and sunset as this light often provides some of the best lighting conditions for stunning scenes to photograph, these are always optional, but certainly worth the extra effort to participate. We have included multiple night stays in Wanaka (2), Queenstown (5) with one full free day to explore this wonderful adventure playground on your own & Mt Cook (2) to ensure maximum enjoyment throughout the tour. At the end of each day, guests can relax in their luxury accommodation and enjoy quality restaurant meals in preparation for the next exciting day.
Tour Includes:
Small Group Luxury Travel Photo Tour – maximum 8 guests
No Single Supplements
18 nights luxury 4 to 5-star accommodation with private facilities in hotels or boutique lodges
Daily breakfast & dinner included – enjoy a mix of fine restaurant meals at our accommodation or local restaurants with a free night in Queenstown to explore your own favourite dinner option (own expense).
Transport in 12-seater Executive Van/Mercedes Benz Sprinter with an experienced local driver and tour guide
Welcome Dinner in Christchurch
Experienced Professional Photographers – Glen Howey – Wanaka/Queenstown, Joseph Pooley, and Rachel Gillespie – Mt Cook/Lake Tekapo join us on specific days to share their expertise in the field covering landscape and astrophotography, work one on one within the group and provide some post processing sessions to get the most out of your photos on tour.
NZ Department of Conservation (DOC concession fees for photo locations)
Experiences include:
1-hour private scenic helicopter flight over Franz Josef & Fox Glacier with guided 2 snow landings (weather permitting)
Afternoon and Sunset 4WD Photo Safari with Photographer Glen Howey – West Matukituki, Wanaka
Jetboat ride on the Shotover River, Queenstown
Afternoon and Sunset 4WD Photo Safari with Photographer Glen Howey – Skippers Canyon, Queenstown
Sunrise and Morning 4WD Photo Safari with Photographer Glen Howey – Glenorchy, Queenstown
Lunch followed by a 2-hour Adobe Lightroom Photography post processing session with Glen Howey – working on your images from the previous few days with Glen.
Half day Fly/Sail/Fly cruise to Milford Sound – fixed wing aircraft and nature cruise
Overnight cruise on Doubtful Sound
Te Anau to Milford Sound scenic route Photo Safari with Photographer Douglas Thorne
Choice of either Larnach Castle guided tour or the Royal Albatross Tour - Dunedin
Guided Hooker Valley Track Photo Safari with Photographer's Joseph Pooley and Rachel Gillespie – Mt Cook/Aoraki
Guided Tasman Glacier Walk Photo Safari with Photographer's Joseph Pooley and Rachel Gillespie – Mt Cook/Aoraki
Guided Lake Tekapo region Photo Safari with Photographer's Joseph Pooley and Rachel Gillespie
Dark Skies/Astrophotography Photo Session with Astrophotographer Joseph Pooley– March is a great time to see and photograph the Milky Way at Lake Tekapo
Adobe Lightroom Photography post processing with Joseph Pooley & Rachel Gillespie – working on your images from the previous day/night on tour with Joseph and Rachel – in particular, the night sky photos
Tour Excludes:
International or Domestic Flights
Airport arrival or departure taxes, levies, excess baggage charges
Passport and visa fees
Travel Insurance – required for all our tours
Meals not specified – lunches, snacks, dinner does not include beverages with meals
All items of a personal nature including but not limited to alcoholic beverages, drinks, souvenirs, laundry services, personal clothing, medical expenses, email or phone charges, hot pools (where additional fees charged), other activities not mentioned in above itinerary.
Optional activities/tours/transfers
Tips and gratuities
Day One – Arrive Christchurch
Make your way to our accommodation.
Rest of day at leisure.
Dinner: a welcome to New Zealand dinner to connect with your fellow travellers.
Day Two to Three - West Coast & The Glaciers
We head west through the spectacular Arthurs Pass to explore the beaches, rocky formations, lakes, gorges, waterfalls, and the glaciers - Franz Josef and Fox Glacier.
Punakaiki is the starting point for discovering the natural wonders of Paparoa National Park, from sandy beaches and rocky coastlines to lush subtropical rainforest and alpine peaks. The Pancake rocks, limestone formations, began to form 30 million years ago and are now covered with layers of soft mud and clay and beneath the rocks, huge waterspouts gush towards the sky from a strong oceanic swell roaring into the caves creating a spectacular view. The west coast provides an opportunity for a beautiful sunset evening.
As we continue our journey on the west coast, two fascinating and accessible glaciers the Franz Josef Glacier and Fox Glacier emerge. Franz Josef Glacier drops more steeply from the Southern Alps to near sea level whereas Fox Glacier has a gradual incline. The Franz Josef Glacier is constantly moving and changing which creates ice formations, crevasses and ice caves that accentuates the "blue ice."
At sunset we have a chance to photograph Mt Cook reflected in Lake Matheson/Te Ara Kairaumati.
To experience the best of the glaciers we have included a wonderful opportunity to explore both glaciers from the air which is sure to be a highlight of your tour. You will be rewarded after an early start shall see us soar above the glaciers on a 1-hour private scenic helicopter flight over the Franz Josef & Fox Glacier with 2 guided snow landings (weather permitting).
Day Four to Five – Wanaka – 2 nights
Amongst the backdrop of the stunning Mt Aspiring National Park lies the gorgeous natural beauty of waterfalls, blue pools, the infamous Wanaka Tree, lakes and rivers, alpine meadows and forest and a night sky full of stars when the sun goes down.
We will have ample opportunity to photograph at sunrise or sunset along with the dark skies over Lake Wanaka we may have some astrophotography opportunities.
An included afternoon and Sunset 4WD Photo Safari with Professional Photographer Glen Howey to West Matukituki will have us all learning how to take great landscape photos and the opportunity to improve our photography skills.
Day Six to Ten – Queenstown – 5 nights
Positioned on the shore of Lake Wakatipu and surrounded by impressive snow-capped mountains, green valleys along with the colour of Spring flowers – cherry blossom and daffodils, warmer and longer days we will have ample opportunity to explore, photograph and indulge in a smorgasbord of activities including a visit to Arrowtown – a picturesque settlement from the gold-era.
Included in your Queenstown mini adventure are:
a jet boat experience on the Shotover River.
an afternoon and Sunset 4WD Photo Safari with Professional Photographer Glen Howey to Skippers Canyon – a historic, rugged, and scenic gorge with stunning mountain views.
a Sunrise and morning 4WD Photo Safari with Professional Photographer Glen Howey to Glenorchy - some of the most spectacular landscapes often depicted in feature films.
Lunch and a 2-hour Adobe Lightroom Photography post processing session with Professional Photographer Glen Howey – working on your images from the tour in a class setting.
Half day Fly/Nature Cruise/Fly to Milford Sound in a fixed wing aircraft (weather permitting).
Lying deep within the Fiordland National Park is Milford Sound, a UNESCO World Heritage site. It is a stunning natural attraction of steep cliffs, dense rainforest, gushing waterfalls and enchanting views. Milford Sound is the wettest inhabited place in New Zealand and rains on average 182 days a year. However, this will only add to the spectacular sight of the waterfalls as they thunder down the cliff face into the sea leaving a trail of mist behind.
As Queenstown is the adventure capital of New Zealand you will have an opportunity to explore at your own leisure with one full free day. This may involve more adventurous activities – bungy jumping, canyon swinging or zip lines; improve your handicap on a championship golf course; relaxation and wellness – spa and beauty; hot pools; winery tours – the region is famous for Pinot Noir; take the Skyline gondola to Bob's Peak for spectacular 220-degree panoramic views of The Remarkables, Coronet Peak, Walter and Cecil Peak and stunning views overlooking Queenstown or enjoy some thrilling rides on the Luge; the Queenstown Gardens; a cruise on Lake Wakatipu; shopping or just enjoy a relaxing day. With so many wonderful choices or experiences to choose from, the choice is yours.
Day Eleven – Overnight Cruise Doubtful Sound
Doubtful Sound situated in the southwest corner of the Fiordland National Park is sometimes called the "Sound of Silence" for its powerful serenity. Doubtful Sound does not have direct road access, so an adventure awaits as we drive to Manapouri, take a boat transfer across Lake Manapouri, followed by a coach drive over the Wilmot Pass to Deep Cove where we join our overnight cruise on the Fiordland Navigator for an unspoiled and unforgettable experience.
We will cruise through some of New Zealand's most stunning scenery and with the onboard nature guides providing commentary we may find a pod of bottlenose dolphins, fur seals or the rare Fiordland Crested Penguins. Plenty of opportunities to photograph both sunset and sunrise, kayaking or a smaller tender boat to explore the coves for closer views. In the evening we will enjoy a 3-course buffet dinner prepared by the on-board chef. We will have the chance to mingle with other guests, spend time relaxing or gazing at the stars before retiring to our ensuite cabins for the night. This is sure to be a memorable highlight of your trip.
Day Twelve – Te Anau
After arriving back at Manapouri around lunchtime we will head towards Lake Te Anau for lunch before we meet up with Professional Photographer Douglas Thorne from Southern Photography Adventures for an afternoon and sunset Photo Safari from Te Anau along the road to Milford Sound. With many opportunities for landscape and nature photography between Eglinton Valley, Mirror Lakes, Knobs Flat, Lake Gunn, Hollyford Valley, The Homer Tunnel and perhaps a chance to see Kea (mountain parrot) or Whio (blue duck), Douglas will share some of his favourite places with us and help improve our photography skills with some one-on-one tuition in the field.
Day Thirteen – The Catlins
The Catlins will captivate you with their rugged beauty. From native forests and high cliffs, to deserted sandy beaches and cascading waterfalls – McLean Falls and Purakaunui Falls, a picturesque sunset at Nugget Point and perhaps an encounter with a yellow eyed penguin – one of the world's rarest penguins, a fur seal or sea-lion or two. The natural landscapes of the Catlins are fascinating and the wildlife is amazing.
Day Fourteen – Dunedin & Oamaru
Dunedin is a boutique city, second largest to Christchurch in the South Island that wears its Scottish heritage with pride. High up on the Otago Peninsula is Larnach Castle; rugged beaches and the Royal Albatross Centre – a place where you can see the Northern Royal Albatross in their natural habitat.
You may have the choice of 3 options whilst visiting Dunedin: extended free time in the city of Dunedin to explore on your own, a visit to Larnach Castle with a guided tour or a visit to the Royal Albatross Centre.
Oamaru is the largest town in the Waitaki District famous for its blue penguin colony and limestone architecture of the Victorian precinct. An optional evening visit of Oamaru's blue penguins may be possible to see these cute little residents return to shore at dusk after a busy day fishing.
Day Fifteen to Sixteen – Mt Cook/Aoraki National Park – 2 nights
An early start this morning as we head off to photograph the sunrise over the Moeraki Boulders. Scattered along Koekohe Beach are massive, different size spherical boulders that were formed around 60 million years ago. We will then visit the Katiki Point Lighthouse home to a myriad of wildlife from Yellow-Eyed Penguins, Little Penguins and Fur Seals and a whole host of seabirds.
We will head to a local café for breakfast before continuing our journey to Mt Cook/Aoraki National Park for the next two nights.
Mt Cook/Aoraki National Park is a rugged land of ice and rock with 27 peaks of more than 3000m, including the highest mountain in New Zealand, Mt Cook/Aoraki at 3754m which makes up the spectacular Southern Alps. It offers some of the best climbing in Australasia, but for the less adventurous, there are mountain walks that lead to alpine lakes, meadows, and spectacular views of the glaciers. Stargazing here is amazing with New Zealand's only international Dark Sky Reserve.
There are numerous short walks from the Village at Mt Cook from the Tasman Glacier - a terminal lake to the Hooker Valley Track – three swing bridges, views of Mueller Lake, alpine streams, and glaciers in the shadow of Mt Cook/Aoraki before ending at an amazing view over the iceberg speckled Hooker Lake.
Perhaps a visit to the Sir Edmund Hillary Alpine Centre to learn about the Mt Cook region.
Included at Mt Cook/Aoraki will be a Photo Safari with Professional Photographer's Rachel Gillespie and Joseph Pooley from Southern Photography Adventures who will share their favourite locations and guide us on a half day short walk to the Tasman Glacier and the Hooker Valley Track for some fabulous photographic opportunities. They will share their photo tips with one-on-one tuition to help you take some memorable photos and improve your photography skills whilst in the field.
Day Seventeen – Lake Tekapo
Lake Tekapo is located in the Mackenzie region and is the highest, largest lake in New Zealand famous for its crystal clear turquoise blue colour lake and mountainous landscape. The iconic Church of the Good Shepherd on the shores of Lake Tekapo offers stunning views of the surrounding mountains from its altar window. Lake Tekapo is known for its clear nights and lack of light pollution and is part of the UNESCO Dark Sky Reserve making it an ideal destination spot for dark sky viewing of the stars and Milky Way or discovering the science of the southern skies at Mount John Observatory.
Today, we will be joined by our professional photographer's Rachel Gillespie and Joseph Pooley from Southern Photography Adventures for another wonderful day of photography locations throughout Lake Tekapo. Later tonight when the skies are really dark and the stars are striking in the night sky, we will try some astrophotography under the tuition of Rachel and Joseph, specialist Astrophotographer's. They will guide us through the technical aspects to capture some dark sky images and help us with some of their specialist equipment to improve the quality of our photos.
Day Eighteen – Drive to Christchurch
After a late breakfast, we shall finalise our association with Rachel and Joseph with an Adobe Lightroom post processing session of our Dark Sky images from last night.
After lunch in Lake Tekapo we make our way back to Christchurch and the conclusion of our incredible adventure.
Arrive late afternoon.
Tour concludes on arrival.
Note: Itinerary is subject to change due to unforeseen circumstances, inclement weather, changes to timetables and transport routes or from third party suppliers. This can happen at short notice and we will endeavour to minimise any disruptions to our schedule and offerings and provide alternative options where applicable.
Scenic flights are weather dependent so if they are cancelled due to poor weather a full refund will be provided.
Flight Information to/from Christchurch
Christchurch Airport (CHC) is located 10km from the city centre and is approximately 15 to 20 minutes away by car.
Airport Transfers: Taxis – Christchurch Blue Star Taxis, Corporate Cabs, First Direct or Gold Band Taxis – the taxi rank is outside International Arrivals (exit through door 7). Prices vary by company and we recommend asking for an estimate before you begin your trip. An extra $5.50 is charged to collect or deliver to Christchurch airport.
Super Shuttle NZ – door to door service (shared multi-passenger vans). The Shuttle Van rank is outside International Arrivals (exit through door 7). Can be pre-booked via an app – see https://www.supershuttle.co.nz
Rideshare – to meet your driver, exit the terminal and follow the signs to the Rideshare Pick-up zone, located behind the Express Park Building. For drop-offs this will be in the Rideshare Drop-off zone. An extra $5.50 is charged to collect or deliver to Christchurch airport.
Passport and Visa requirements: always check entry requirements before you travel, give yourself enough time to renew your passport and/or apply for a visa at the relevant embassy or consulate if applicable.
If you have questions about visa requirements for visiting New Zealand please contact New Zealand Immigration on 02 8278 4529 (Monday to Friday 07:00 to 17:00 AEST).
Note: Australian citizens travelling to New Zealand must have a valid passport when entering New Zealand. It must be valid at time of arrival and departure dates. An Australian citizen or resident travelling on an Australian Passport does not require a Visa. It is your responsibility to confirm your own status and circumstances.