Relax in your Lofoten Island Rorbuer
Experience being a part of a traditional fishing village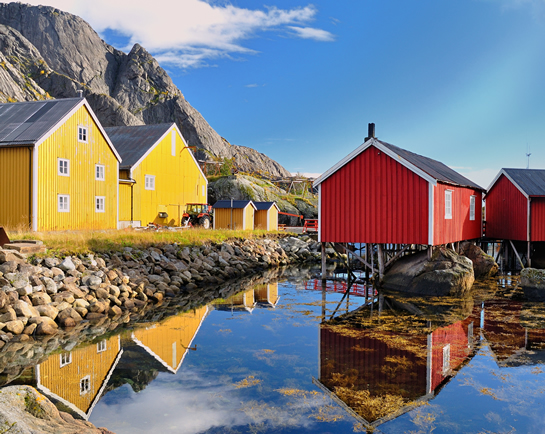 Our accommodation partners will offer all of our tour guests the opportunity to experience life in Lofoten as authentically as possible. The fully renovated old fisherman's cottages have been exquisitely finished to offer all of the modern comforts- including WiFi, whilst still offering the charm and elegance of how the locals live.
Each of our accommodation partners will welcome you with open arms and be willing to help you with all of your needs throughout your stay with them.
The accommodation at our locations, Svolvaer, Nusfjord and Reine Rorbuer are situated along the waterfront to offer amazing views all day and night and you will wake to smell the fresh salt air- to offer you the best authentic experience of living in a fishing village that has been untouched over generations.
Accommodation in Svolvaer
There are many options of quality accommodation within the local area of Svolvaer if you choose to arrive early or stay on after your Lofoten tour with us.
From Rorbuers to hotels located in and around the Svolvaer Harbour offering views of the Lofoten Archipelago and Svolvaergita Mountain you are spoilt for choice. The town is within walking distance with full amenities including shops, supermarkets, a cinema, cafes and quality restaurants, art galleries and many outdoor activity pursuits like hiking, skiing, water-based activities, fishing, kayaking to name but a few.
At Beyond the Lens Tours we can organise your pre and post accommodation if required by just informing us at the time of your booking and your preferred choice of Rorbuer or Hotel from Svinoya Rorbuer, Thon Hotel Lofoten, Scandic Svolvaer, Lofoten Suitehotel, Anker Brygge or Fast Hotel Lofoten. These hotels range in standards from 3 to 5 stars, free wi-fi, modern facilities, some with self-service kitchens or breakfast included and free parking onsite.